Guatemala's lush landscape is a mix of mountains, volcanos, caves, lakes and so much more, which makes it a haven for the wild at heart. There is plenty to do and discover even if you only have a week in this beautiful country but be warned that you'll definitely want to stay longer. My week in the Central American country was not enough although I did do and see a lot. If you're wondering where to go in Guatemala in a short period, read on a check out how to spend a week in Guatemala.
This post contains affiliate links. If you click my link, I make a small percentage (at no extra cost to you). This helps me keep the travel blog running.
Day 1 – Land in Guatemala City, head to the Charming Town of Antigua
I flew in from Los Angeles and landed at La Aurora International Airport in Guatemala City, the largest airport in Guatemala. From here many visitors then head on to the Spanish Colonial city of Antigua. It's about an hour's drive from the airport and accessible by shuttle bus or taxi.
Getting from Guatemala Airport to Antigua
It's about an hour's drive from the airport and you can take a shuttle bus or taxi. The taxi from Guatemala Airport to Antigua is $13 USD and the taxi takes you to your hotel/hostel. If you'd like to be dropped off at the central park, that's only $10! So if you're on a budget or you're staying close to the park this is your best option. Also, the taxi is only that rate with at least three people so if you're a solo traveler just wait until there are at least two others so you can get the best rate. If you're taking an early morning flight or late-night, this can be a problem. I suggest trying to get to the ticket counter as soon as you can which means fill out your customs forms on the plane, use the restroom on the plane, grab your luggage and head out to the counter.
Exploring the City
Antigua is small and walkable but also note that the charming cobblestone streets are not easy on the feet. Wear comfortable shoes if you plan on doing a lot of walking. You can visit most of the city's most visited sights in less than a 30-minute walk.
Once I arrived at Antigua, I checked into my hostel, freshened up, took a walk to a nearby ATM, and stopped for a bite to eat. I headed to Convento Santa Clara to check out the ruins of the old church. Earlier I had walked by it accidentally and just decided to go inside. I believe it was 20 Quetzales for tourists to enter. There are many churches and monasteries in Antigua and some of them are in ruins which are pretty cool to check out.
If you're interested also check out Convento de las Capuchinas, Church of San Francisco, and Monasterio de Santo Domingo, Antigua Guatemala.
I had booked a tour for the Volcan Acatenango overnight hike for the next day so I went to the grocery store to stock up on some essentials. The store was at the end of town near the mercado (the local market) which I didn't get to visit on this trip but it's a huge market with tons of local food, produce that you can buy along with food stalls you can order food from. There are also vendors selling souvenirs and artisan goods.
As sunset was approaching I decided to find a rooftop terrace where I can enjoy the sky change colors. Luckily there is no shortage of rooftops in Antigua and my hostel had a nice one so I got to stay local. With a beer in hand, I watched as the sky went from blue to purple. There was a storm in a distance and between the lightning, thunder, and the volcano erupting there was a sort of peaceful vibe amongst the chaos.
Day 2 – Volcan Acatenango Hike
Today was the day for the hike I was looking forward to. The Volcan Acatenango hike tour included guided transportation to and from your hotel/hostel to the base of the volcano. It also included food, tents, a sleeping bag, and a hot breakfast upon your arrival back to the base. Pick up starts at 9 am and you start the hike around 11 am at 2400 m/7850 ft. From there it takes about 4-6 hours depending on your group's pace to head up to base camp. At base camp, you'll enjoy watching the sunset while Volcan Fuego erupts in the near distance. It's quite an incredible sight to see. Enjoy the stars at the campfire as the temperature goes from cold to "why am I camping here again?" Then sleep in your tent so you can get ready for the early wake-up call.
Want to know more about the hike? Check out my Volcan Acatenango guide.
Day 3 – Sunrise at the Summit and Back to Antigua
Your wake-up call will be around 3 or 4 am then you'll start the hike to the summit soon after. The guides anticipate it takes an hour and a half so depending on your group you'll wait for the sunrise, arrive just in time, or see it as you're still hiking up. The hike is cold and pitch-black so a headlamp is a must. You'll be greeted by the sun and that's when you'll realize why you went on this glorious hike in the first place.
Back to the Base of the Mountain
After heading back to base camp it's time to pack, have some coffee and head out. You'll finish the hike around 10 am and get a hot breakfast cooked by a local family. The bus will come soon after and it's back to Antigua.
Local Beer Sipping on the Terrace and an Evening Out
I met my friend who just flew in that morning so we headed for a beer and some lunch. We visited Antigua Brewing Company. The terrace there has a beautiful view and the weather was nice. After that, it was straight to the hotel for a shower. Because I hadn't showered since before the hike (TMI?). We walked around and went to Cafe Sky, a rooftop bar to enjoy the sunset. We arrived there just before the sun was setting and the entire roof was packed so we decided to have a seat on their middle level. The view wasn't as amazing at the rooftop of course but it was nice to have a view of the outside.
We walked around the city and had a nice dinner at Casa Escobar Steakhouse. Great meats if you fancy a good steakhouse!
We stayed the night at Hotel Mesón de María. It was such a nice and comfortable stay. I loved the terrace and having breakfast in the courtyard.
Hotel Mesón de María – book with Booking.com | book with Agoda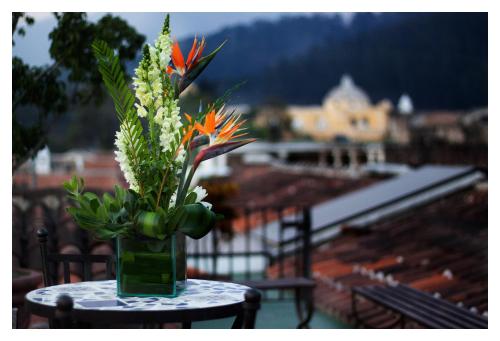 Day 4 – Visit the Famous Sites of Antigua and head to Lake Atitlan
The famous arch of Antigua is the Arco de Santa Catalina and it has the perfect view of Volcan de Agua. It's the postcard-perfect photo with the cobblestone streets so it's worth taking a photo of. If you're trying to get the perfect shot then I suggest getting there early. We arrived around 7:30 am and there were already people out and about and merchants setting up props in the street.
From the arch, it's only about a 20-minute walk to Cerro de la Cruz, the famous viewpoint that overlooks the city. You can take a tuk-tuk (the rickshaw-like cabs), they're easy to get while at the arch but the walk isn't bad. Snap some photos and enjoy a raspado (shaved ice/snow cone) while you're enjoying the view.
Antigua to Lake Atitlan
Soon after walking to Cerro de la Cruz it was back to our hotel so we can get ready to catch a shuttle to Lake Atitlan. If you're wondering how to get to Lake Atitlan from Antigua there are two main options. You can take the local "chicken bus" but with only a week to stay in Guatemala we decided to make the most of our time and go with the shuttle. Of course, another option would be to rent a car. The shuttle is $10-15 depending on where you book from. We booked our shuttle at the hotel and it also picked us up from there. The ride should take 2.5-3 hours mostly depending on the traffic in Antigua and how many passengers are being picked up.
Lake Atitlan is a massive lake surrounded by lush green mountains and volcanoes. The keyword here is massive! If you're taking a bus you're likely going to get dropped off in Panajchel, or as the locals refer to it "Pana." If you're wondering where to stay in Lake Atitlan there are many options so read up on the towns and figure out which one sounds the most enjoyable. Take a trip to another town is easy but I suggest having a base to stay from or splitting your stay amongst a couple of towns. You don't have to lug all your bags and stay overnight in each town so it's easier to pick one and do some day trips.
We stayed at Lush in San Marco la Laguna, the small "hippie" town, and had arrived late so we didn't do much that first night. It was quite dark when we had arrived and the boat dock wasn't well lit. Something to note is that the boats stop running around 7 pm from Pana so if you're planning to arrive late you'll have to stay in Pana for the night.

Day 5 – Explore the Other Towns of Lake Atitlan
We headed to San Pedro, another town on the lake, for a few hours and to grab some lunch, do some shopping, and just walk around. There are many artisans selling jewelry and other handicrafts and tons of cafes with a view of the lake. Between lunch, shopping and cafe hopping we had a fun and relaxed day.
Other Things to Do in San Pedro
You can do a bunch of things in and around San Pedro. The popular sunrise Indian Nose hike is a must if you have a few days in Lake Atitlan. Pick up from San Pedro is the easiest and cheapest. You can also hike Volcan San Pedro. For more outdoorsy activities, rent a kayak and paddle around the lake.
If you're not really into the outdoors you can take a cooking class or even learn how to weave! And for anyone wanting to earn Spanish, San Pedro has some schools.
Sunset at the Boat Dock
We headed back to San Marco a little before sunset so we can watch it from the boat dock. The last boat pick-up was just around this time so it was pretty quiet at the dock once the boat left. It's a great place to just sit and enjoy the view of the lake and watch the sky go from light to magical.
Dinner in San Marco
It was time for dinner so we headed to an Italian restaurant. I know, Italian food in Guatemala? Sometimes you just need to mix it up! It wasn't anything amazing so I actually forgot the name of the restaurant but it wasn't bad at all.
If you like sweets, try finding one of the local ladies who sells banana bread. It is AMAZING!! I refer to it as Bomb Banana Bread but you can call it whatever you like.
Day 6 – Lake Atitlan to Antigua to Earth Lodge
It was our last day at Lake Atitlan so we had to make the most of it before hopping on the boat to Pana and getting on a bus to Antigua, then getting local pick-up to Earth Lodge from Antigua. So a little last-minute exploring was in order.
Visiting Cerro Tzankujil
We got ready in the morning and headed to Cerro Tzankujil to hike around before we left San Marco to check out some of the views, do a little hiking and see the Mayan altars. With only about an hour there, it wasn't enough time, it really deserves at least two. This is a perfect spot to jump into the lake as well since there's the jumping platform but you can always walk down if you don't want to make the jump.
Journey Back to Antigua
We walked back to our hotel which was a two-minute walk from Cerro Tzankujil, got our bags and caught the boat to Panajchel. The boat made stops along the way and it was cool seeing more of the different towns just from the boat. Some locals carried things like bags of avocados to be delivered to the towns. In fact, my friend and I were the only foreigners on this boat ride.
We arrived in Pana and there were people there when you get off the boat asking if you need a ride to Antigua so we had a ride lined up right away. The ride was pretty quick and the driver made a rest stop at gas station.
Antigua to Earth Lodge
When we got to Antigua we waited for our ride to pick us up at Old Town Outfitters. This was one of the pick-up spots that the "shuttle" the hotel arranged would pick us up at. We were picked up in a small pick-up truck and rode in the back. It was a bumpy ride but quite fun. We picked up a traveling couple at another stop then headed up the mountain.
Earth Lodge is a little oasis for nature lovers in the mountains just above Antigua. It isn't super high up but you feel like you're hundreds of miles from the city. I really wanted to stay in a treehouse so we booked a tree cabin and also made reservations for the group dinner they offer at the lodge. Since this location is a little more remote there aren't many food options that are directly near Earth Lodge but there is food and a bar at the lodge.
I must say that staying here isn't for the arachnophobic, there are lots of little creatures and spiders lurking around. I actually hate spiders but it comes with the territory so I do what I can and try not to let them bother me. Also, having insect repellent is a must. There are tons of mosquitos so it's important to have something on yourself for protection.
We enjoyed the sunset and a Gallo (a popular Guatemalan beer) then hung out in the lodge until dinner. We made friends, played some board games then finally headed in for the night.
Day 7 – Volcano Eruptions at Sunrise and the Journey Back Home
We woke up at sunrise and watched Volcan Fuego erupt from our window. It was still very early so we went back to sleep. The morning came and we got ready to head out. We arranged for a ride and hung out at the lodge until it arrived. A short hike and some hammock relaxing were on the agenda.
We finally got back to Antigua and tried to get a shuttle to take us to the airport but two different companies were already booked up for the time we wanted to leave. Because of this we had to find an affordable private ride. We ended up paying $30 for a taxi to take us to the airport which wasn't bad since there was two of us. If you want to take a $10 shuttle arrange it ahead of time.
We still had about 30 minutes in between the time we needed to leave so we explored Antigua one last time before heading out. Then it was goodbye Antigua and goodbye Guatemala.
Want to Explore More of Guatemala?
This Central American country was truly amazing and I still want to go back. There are plenty of things to do in Guatemala so if you have more than a week, say closer to two weeks, consider visiting Semuc Champey and the Mayan ruins of Tikal. If you have about three weeks add on Flores and Rio Dulce. There is so much more to do but these are the "hot spots" and are easy to get to via bus.
If you enjoyed this post please Pin it!